At FreeOnlineSurveys, we're committed to enhancing your customers' experiences, and with our latest update, we've taken a another step towards achieving just that.
We're thrilled to introduce the all-new online calculator builder to our ever-expanding array of products.
Gone are the days when you needed coding or development expertise to create calculators. With our calculator builder, it's a pure "what-you-see-is-what-you-get" (WYSIWYG) experience, making the entire process a breeze.
When building calculators, you'll have a versatile array of question types at your disposal, handpicked from a wide selection that's already familiar from surveys, quizzes, and forms.
Plus, you'll have access to our freshly minted calculator field types.
New calculator questions & fields
At FreeOnlineSurveys, we're not content with just adding another product to our ever-growing catalogue. We've pushed the boundaries and ushered in a host of new question types that seamlessly integrate with our interactive calculators.
Age: Capture age with precision using numeric inputs (e.g. 59).
Currency: Effortlessly handle currency and monetary values (e.g. $45.99) within your calculators.
Integer: Streamline the process with whole numbers as input (e.g. 15).
Decimal: Enable decimal values as inputs (e.g. 3.86) for utmost accuracy.
Numeric Slider: Enhance user interaction by allowing them to select values on a predefined scale using a user-friendly slider.
But that's not all! You can also leverage the following existing question types to further enrich your web calculators.
Creating formulas has never been more straightforward. In our intuitive builder, all your calculator questions are neatly displayed on the left, ready for you to drag and drop them into your formulas.
We'll even highlight any questions that have already been used in blue!
To ensure a seamless formula-building experience, we've designed two versatile tools, a Simple Formula Builder and an Excel-Style Table.
Any formula you can create within in a single Excel or Sheets cell is achievable with our Simple Formula Builder. You'll have access to basic math operators to help you build out your formulas, e.g. +. -, /, * and round.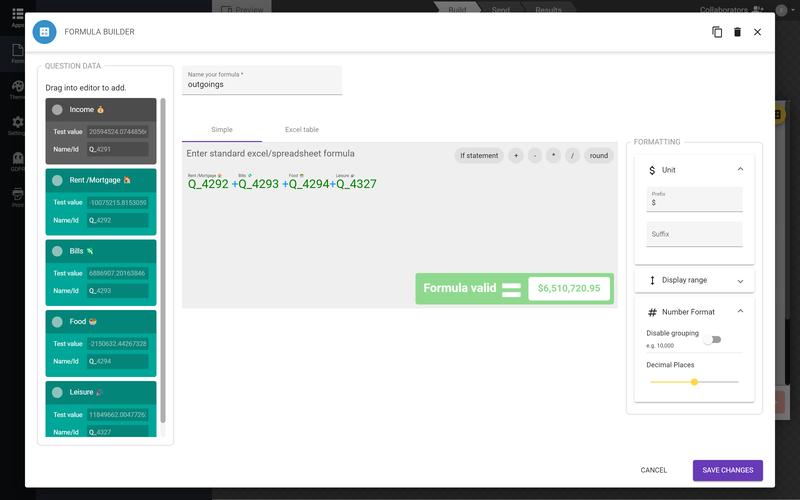 The Excel style table allows you to import your own datasets that can be referenced by formulas. You can create multiple formulas within this table, allowing you to build more complex online calculators.
However, you'll need to select a single Results Cell which will be used for the calculator results.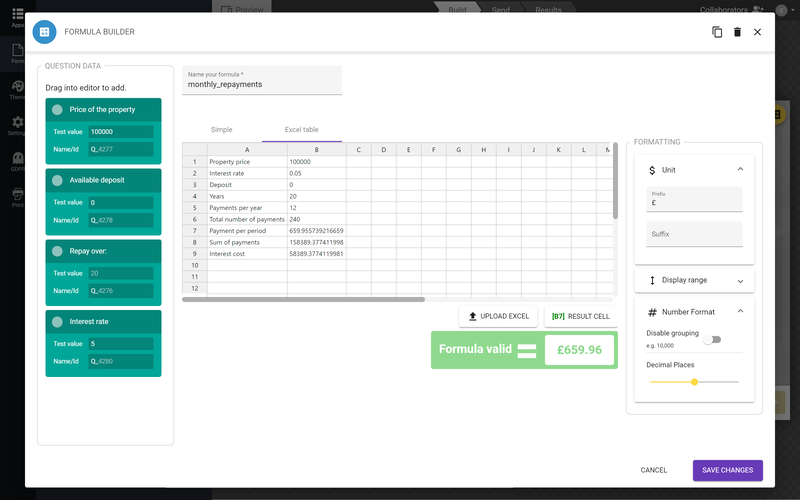 Math operators and functions
With FreeOnlineSurveys' interactive calculators builder, you can use almost all functions and operators available with Excel and Sheets.
This includes basic math operations, such as addition (+), subtraction (-), division (/) and multiplication (*).
You'll also be able to employ more advanced functions such as IF statements. For more on this topic, you can take  a look at our help doc on Operators and Functions.
You can also explore Excel specific functions for use in our Excel style table.
You also have control over how calculator results are displayed to people.
By default, calculator results will be displayed on an Exit Page, which is perfect if you want to email gate results for lead generation.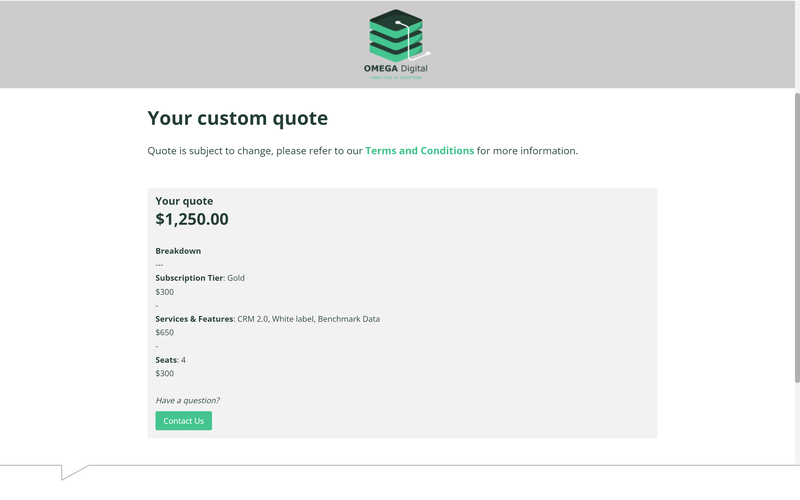 But, you can also display results in real-time, side by side with your calculator.
Results are comprised of a few different elements:
Heading: Add a heading for your result.
Description: Write content to be displayed below your result. You can pipe text from other formulas, the CRM, and question answers in your calculator.
Image: Import an image to be displayed alongside your result.
Call-to-action: Write a CTA to prompt a user action.
Alongside calculator results, you can show customized messages to users.
These messages are triggered based on conditional parameters set by you, including:
Greater than: >
Greater than or equal to: >=
Equal to: ==
Lesser than: <
Lesser than or equal to: <=
Calculator reports will look similar to Survey, Quiz and Form reports. However, we've now added a section for formula results.
These results aggregate all data for each of the formulas active in your calculator. Data points will include:
Average: the average of all formula responses.
Min: the smallest formula result.
Max: the largest formula result.
Responses: the number of responses to a formula.

These same data points will be used for the new calculator question types:
Age
Decimal
Integer/ Whole number
Numeric Slider
Money/ Currency
You'll have a wealth of options when it comes to sharing web calculators:
URL link: share access to interactive calculators with a link.
QR code: print a QR code, which when scanned brings users to your calculator.
Email invitation: craft beautiful email invitations for your email lists.
Website embed: embed calculators inline with all your other website content.
Popups & slideouts: have your calculator popup or slideout at the click of a buttom.
Audience: target respondents all over the world.
Embed calculators on your website
With FreeOnlineSurveys, you can embed calculators on your website in a few simple steps.
Simply head to the Send section of your calculator, scroll to Embed, and click "Get the code".
Then, all you need to do is copy and paste the code onto a web page.
If you're using a CMS like WordPress or Wix, you can paste this code into an HTML block.
How can the calculator builder help my business?
In a world where user engagement and informative decision-making are pivotal for websites, our custom calculators are here to revolutionize the way you connect with your audience.
But the real magic lies in the details, and we can't wait to dive into the exciting features that come bundled with FreeOnlineSurveys' interactive calculator builder.
Our interactive calculator builder is more than just a tool; it's a gateway to elevating engagement on your website. Engage your audience like never before, sparking their curiosity, and keeping them coming back for more.
The power of a well-crafted calculator is unparalleled when it comes to driving traffic. Give your website the boost it deserves, attracting a stream of visitors who are not only intrigued by your content but also eager to interact with it.
Your quest for generating leads ends here. The custom calculator builder equips you with a potent method to not only capture valuable information but also establish meaningful connections with your audience. It's your secret weapon in converting visitors into potential clients.